Material and style of plastic hangers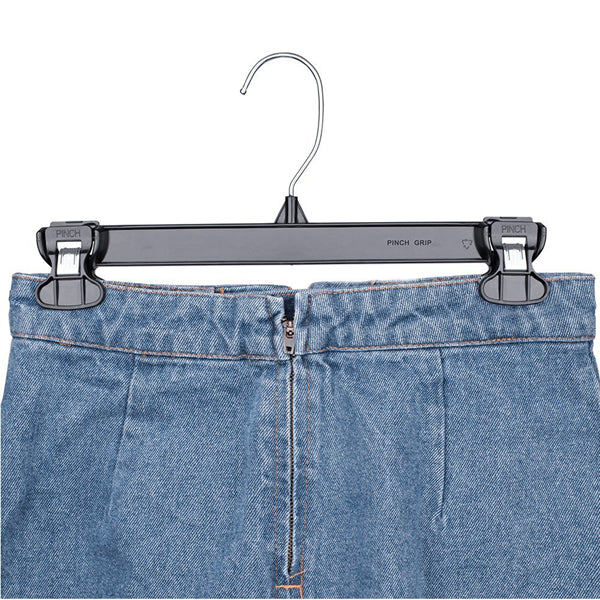 The raw materials used to make plastic clothes hangers are polypropylene, polystyrene, acrylonitrile butadiene styrene copolymer, polycarbonate polyvinyl chloride and so on. After molding preparation, feeding, plasticizing, mold filling, pressure holding, backflow, cooling, demoulding process manufacturing molding. Hangers made from different materials also have different properties, so different hangers have different characteristics and are suitable for hanging clothes. With the development of society, the forms of plastic clothes hangers are becoming more and more diverse, such as plastic non-slip clothes hangers, travel portable clothes hangers, folding clothes hangers, etc. According to people's different needs, the shape of clothes hangers is not limited to the previous single shape.
Plastic hangers introduce a material classification:
Polypropylene is one of the most commonly used materials for coat hangers. It is non-toxic, tasteless, low density, and has good insulation and is not affected by humidity. Generally used for plastic suit hangers, shirt hangers, suit hangers, circulation hangers and other pendants.
Polystyrene is easy to process and form, good stability is not easy to deform, suitable for plastic foam suit hangers, jacket hangers, coat hangers, inner hangers, pants rack, pants rack parts, etc.
Propylene butadiene styrene copolymer high temperature resistance, impact resistance, easy processing. Suitable for high plastic suit hangers, pants racks, T-shirt hangers, inner hangers, etc.
Plastic carbonate colorless, tasteless, non-toxic, amorphous plastic, strong toughness, has good dimensional stability. It is often used for plastic clothing rack functional parts, such as: plastic hook, spring, buckle, clip and part of the thin section hanger.
PVC has good heat resistance, toughness, ductility and chemical stability. Suitable for plastic clothing accessories, such as gasket, layering.
Introduction to common plastic hangers
Folding hanger is often used for travel when the size of the small, do not take up space, do not increase the burden, very convenient folding. The folding hanger is connected with rivets at the folding place, which is convenient for folding.
Telescopic COAT HANGER SPECIALLY INSTALLED TELESCOPIC SHOULDER SUPPORT AT WILL CONTROL THE length OF COAT HANGER, can hang clothes with different shoulder width without trace ARC COAT hanger, ordinary triangle coat hanger in the sun if the shoulder width of clothes than clothes hanger long, the shoulder of clothes will have the trace of DRape
After that, it will affect the beauty of the clothes. Curved shoulders avoid this.
Retractable pant jacket racks for pants with different waist widths are often used in clothing stores. No matter how society develops, coat hangers are indispensable in our daily life. Although the material forms of hangers are constantly evolving, plastic hangers are still the mainstream of the hanger market, and choosing the right clothes hangers is also a part of our daily life that can not be ignored. For more information on plastic hangers, stay tuned to our website!
Sinfoo factory always adhere to the quality first, on the basis of good faith, to improve customer satisfaction, there is no best only better service concept, to provide customers with better quality products. Sinfoo has its own factory, specializing in the production and design of paper hanging, grain, hanging gun, hanging, hangers and other clothing accessories, with 47 years of production and wholesale experience, business scope covers 67 countries worldwide, complete pre-sales and after-sales service. Free consultation, support ODM, OEM orders, global delivery, to provide you with one-stop service.